Mission and Core Values
The mission of the Lucas County Board of Developmental Disabilities is Improving LIFE so that individuals with developmental disabilities reach their full potential.
LIFE is an acronym for our core values.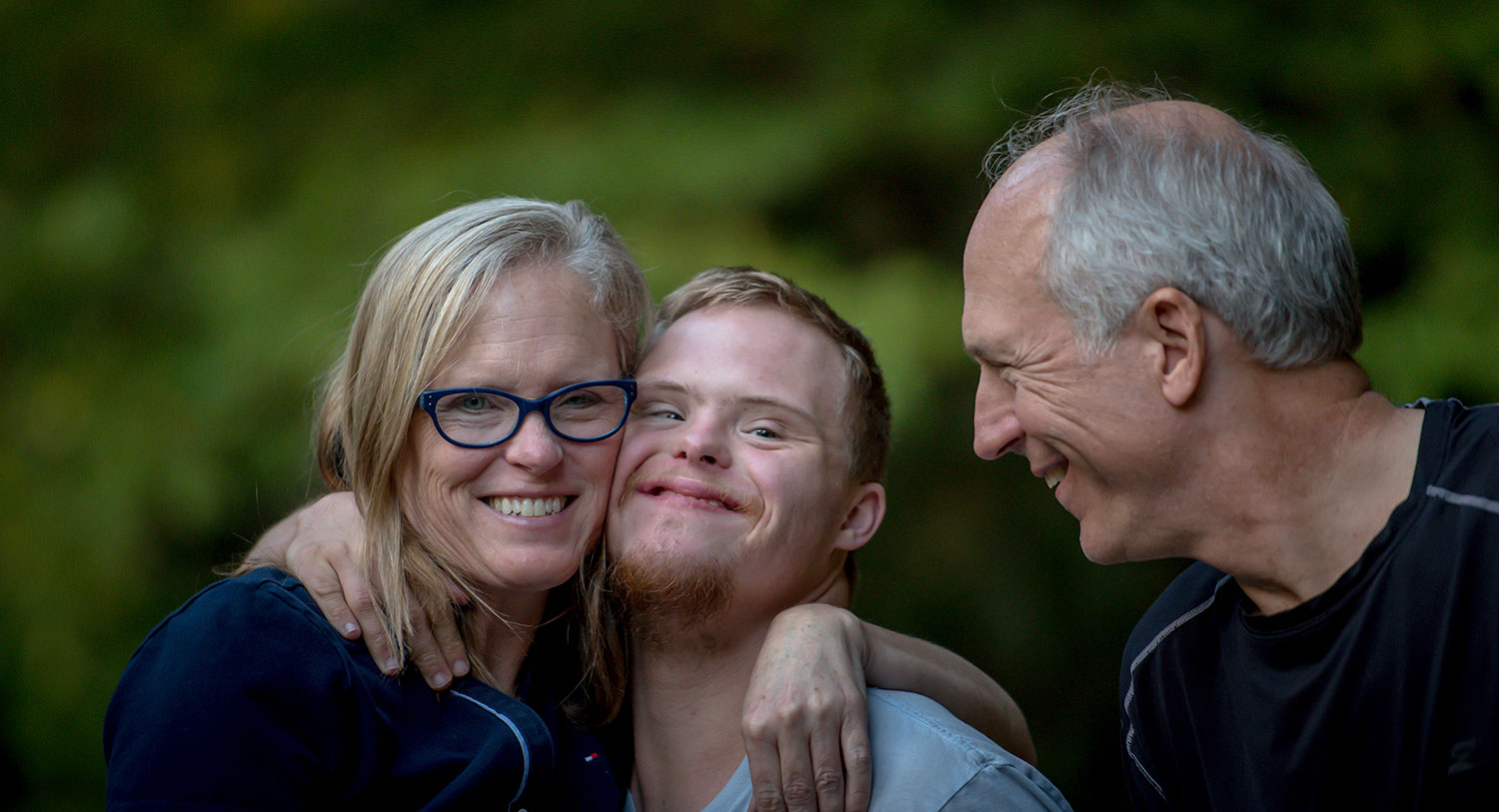 Living Life
I desire to live my life in the same manner as you. This means having the opportunity to choose my home, my relationships, my hobbies, my career and my beliefs.
Inclusion
I am included, accepted and able to participate in all things throughout my community.
Freedom of Choice
My voice is heard in decisions that affect me. My opinion matters.
Everyone has Worth
I have talents and abilities that I want to share. I deserve the chance to contribute to the betterment of my community.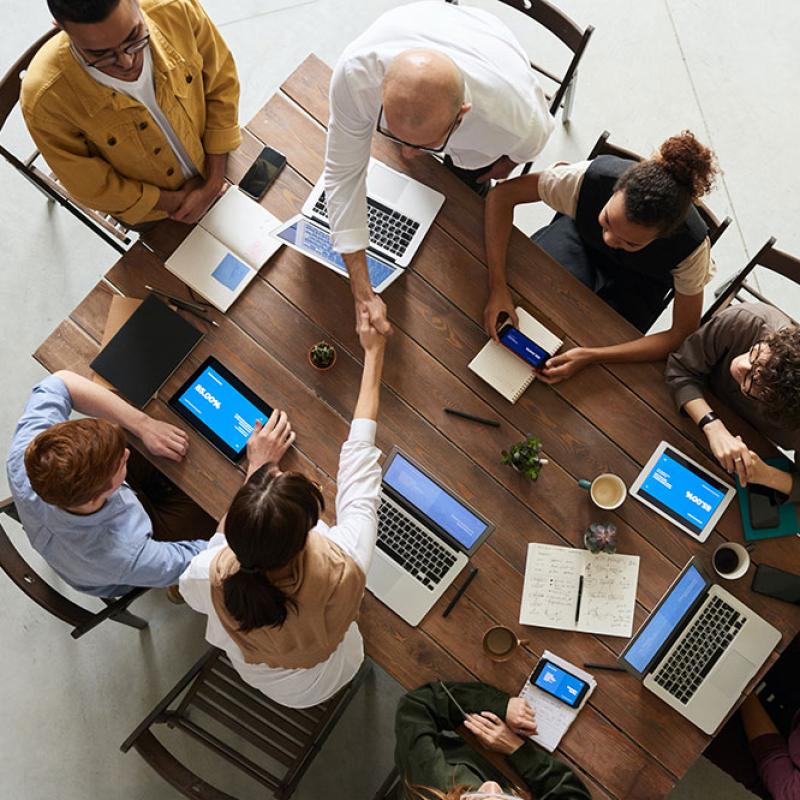 Board Responsibilities
The Lucas County Board of Developmental Disabilities is responsible for:
Children's Department, which provides the Early Intervention Program
Community Inclusion, which provides staff support for recreation and Special Olympics, the FANS Network, travel training and employment navigators
Investigative agents who review major unusual incidents and allegations of abuse and neglect
Provider Support
Medicaid administration
Service and Support Administration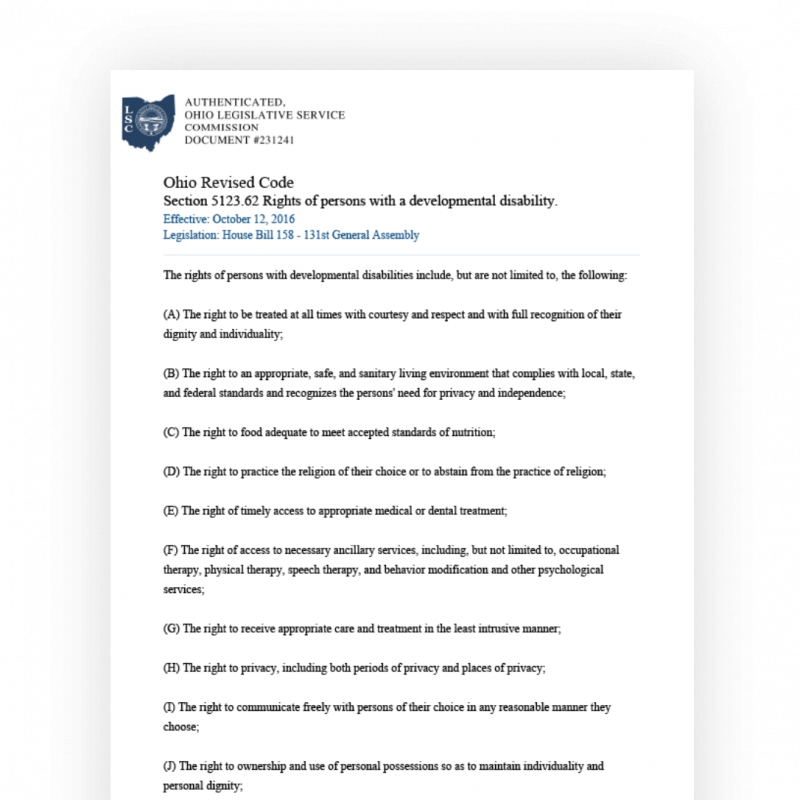 Rights of Persons with Developmental Disabilities
On Oct. 12, 2016, the Bill of Rights for Persons with a Developmental Disability (ORC 5123.62) was enacted by the Ohio Legislature. By statute, people with developmental disabilities are afforded the same rights as other citizens of Ohio.  The complete bill of rights can be reviewed here.
"Individuals with developmental disabilities are supported in a caring and responsive manner that promotes dignity, respect, and trust and with recognition that they are equal citizens with the same rights and personal freedoms granted to Ohioans without developmental disabilities."
(ORC 5123:2-2-06)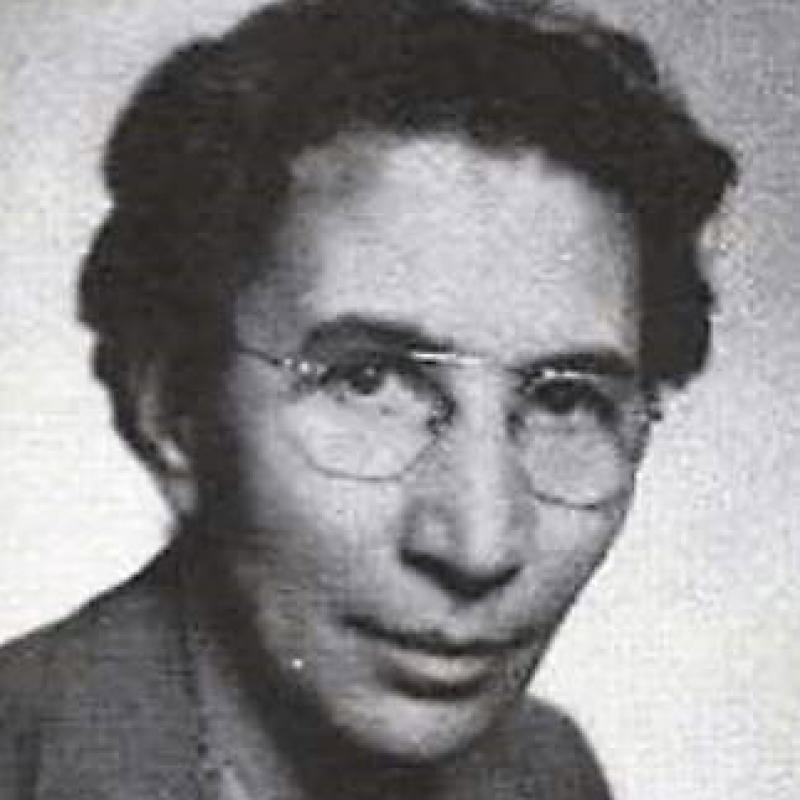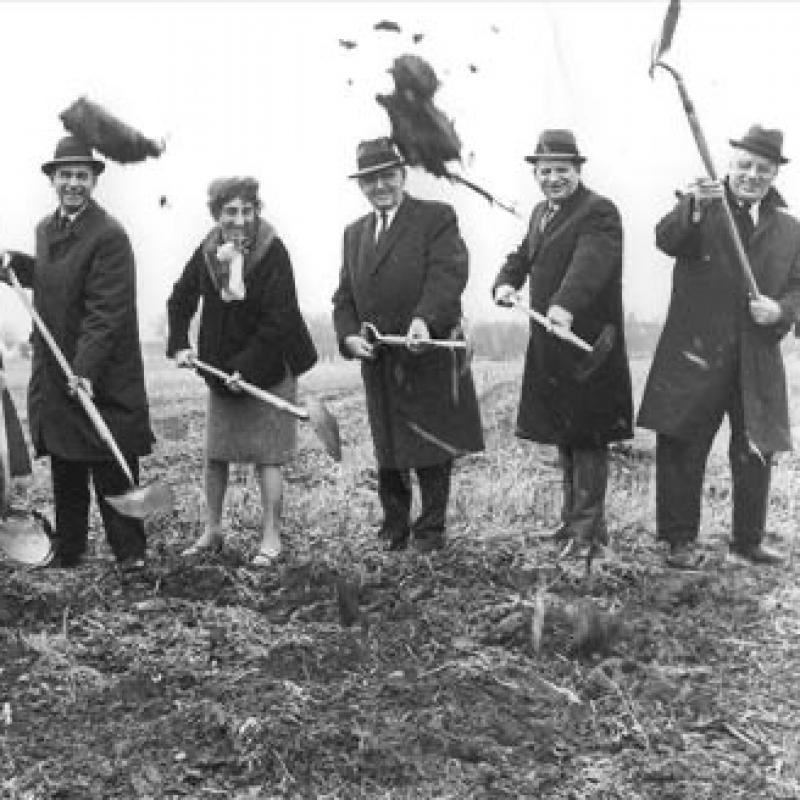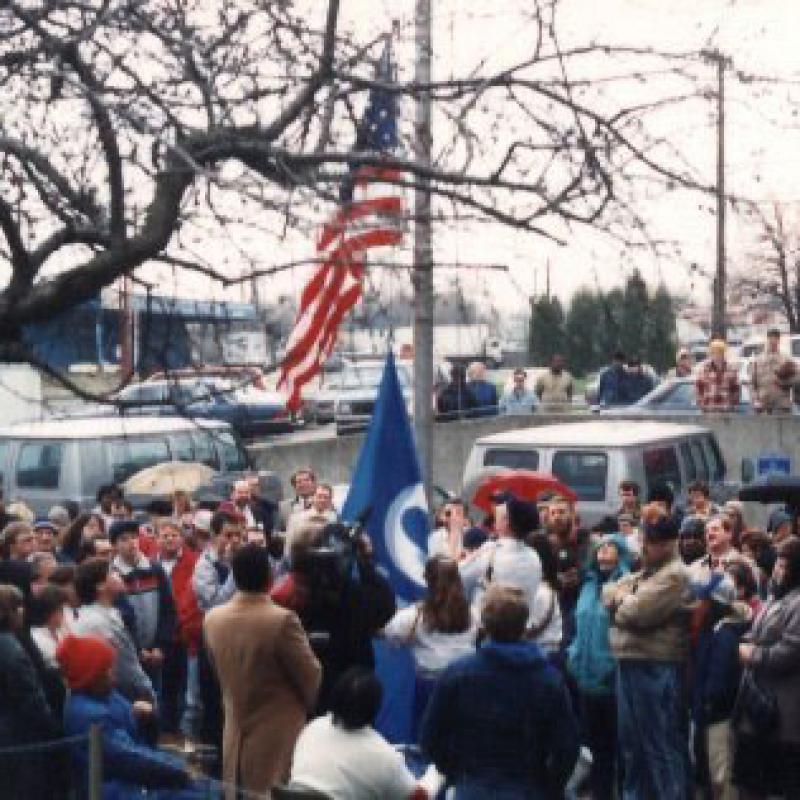 The History of the Lucas County Board of Developmental Disabilities
The history of the Lucas County Board of Developmental Disabilities (LCBDD) is one of initiative, advocacy and leadership. Throughout the decades, the focus has always been on providing support and service so individuals with developmental disabilities can reach their full potential.
The LCBDD's current programs evolved from early classes taught by Josina Lott in her dining room starting in 1938. Her "school" began with four students. As this number increased, Lott eventually opened the Lott Day School in East Toledo in 1945.
Lott became concerned for the children who had been in school a number of years. They had reached the limits of their academic capacities but were still unable and unprepared to contribute to their own support. She proposed an adult "training-for-earning program," which was developed as an extension of her Lott Day School to help young adults learn job skills.
In the mid-1950s several parents of children who were in the "training-for-earning" program partnered with the Lucas County Association for Retarded Children (LARC) to form the nonprofit Sheltered Workshop Foundation, the precursor of Lott Industries.
In 1958 a delegation from LARC convinced the county commissioners to place a levy on the ballot to raise funds. The .3 mill levy passed, becoming the first local tax levy in Ohio to support the education of children with intellectual disabilities.
When Larc Lane School opened in 1962, Lucas County became the first county in the nation with a program for children with intellectual disabilities that operated without any cost to parents. In 1965, when a new adult facility was built across the street, it was heralded as the only workshop for adults with intellectual disabilities built by tax money. 
The state of Ohio created county boards of mental retardation and developmental disabilities in 1967.  In 1971, individuals from Lucas County participated in the first Ohio Special Olympics, held in Cleveland.
Larc Lane School was closed in the mid-1990s, because children with developmental disabilities were now enrolled in public schools.
In 2009, at the urging of self-advocates, the term mental retardation was removed from the name of county boards. The advocates argued that use of the "r" word was a constant reminder of the many negative stereotypes that mask the true talents and capabilities of people with disabilities.
Two directives from Medicaid initiated a major reorganization of how services to people with developmental disabilities are provided. The Board could no longer be the entity that administers waiver dollars while accepting those dollars to provide services. Medicaid also stressed that services be delivered in non-segregated environments.
In compliance with those directives, the Board ended its transportation services in 2016 and launched a series of steps that would separate Lott Industries from Board administration. Day habilitation services provided by the Board ended in 2018. Today, transportation, day services, community employment, and senior programs are provided by the private sector.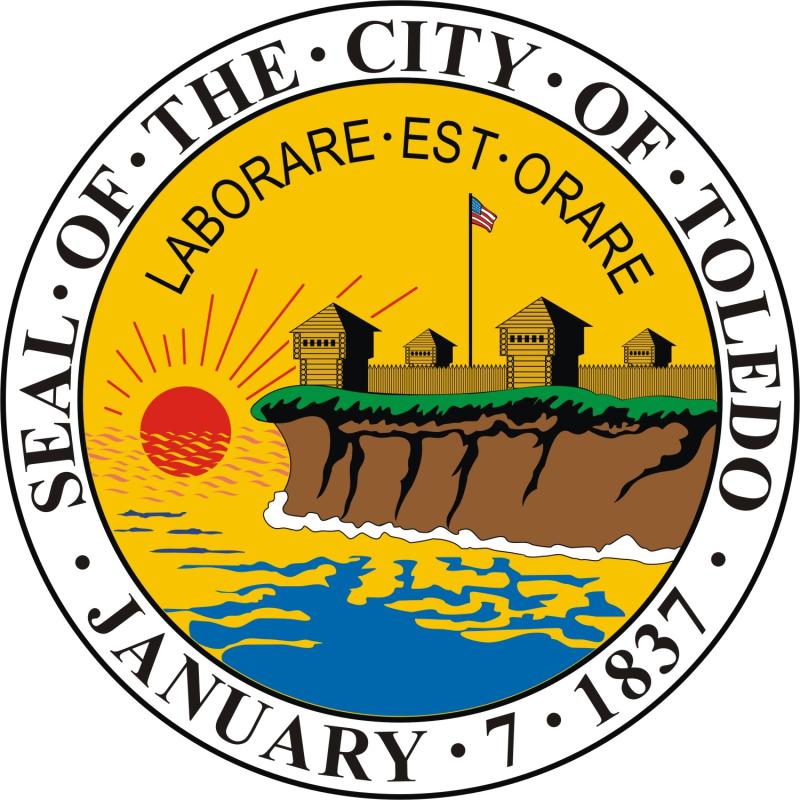 Cultural Competence
Because the Lucas County Board of Developmental Disabilities believes that every person has worth, we strive to be a culturally competent organization.
A culturally competent organization acknowledges and validates who people are and develops an atmosphere in which people of different cultures work effectively in cross-cultural settings. Everyone is involved in the process.
A culturally competent organization also brings together knowledge about different groups of people and transforms that knowledge into standards, policies and practices that make everything work.
Cultural competence increases our respect and mutual understanding, increases participation of other cultural groups, and increases trust and cooperation. Cultural competence also promotes inclusion and equality.