At its monthly meeting on May 22, 2023, the Lucas County Board of Developmental Disabilities honored a pair of employees as the Staff Persons of the Month, and honored a provider with its monthly Special Recognition Award.
Staff Persons of the Month
As we wrap up the spring season of the Early Intervention team's playgroups this month, we wanted to recognize a couple of staff who played an integral role in starting them in our renovated building.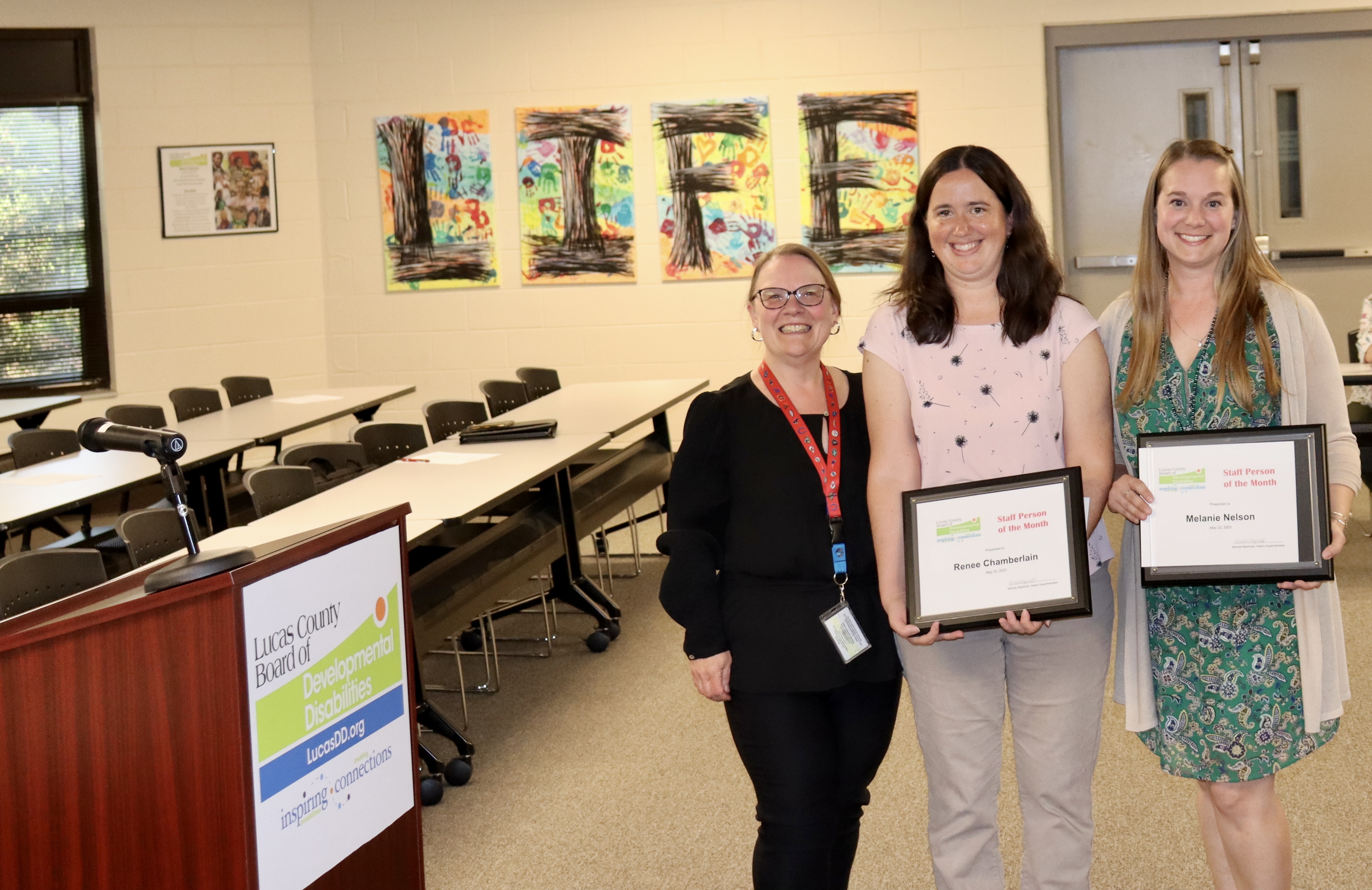 Early Intervention Developmental Specialists Renee Chamberlain and Melanie Nelson organized and began the very first playgroups at the new EI building. They have brainstormed through challenges and gracefully worked through unforeseen glitches. Renee and Melanie have also established new protocols and procedures to benefit those who are now starting up their own playgroups at our new building.
Starting small with just the familiar families they served, Renee and Melanie are now confident in opening their playgroup to any family in EI. They made inventory of available toys and resources and ordered whatever other toys and materials were needed. They did all of this while maintaining their regular workload and with smiles on their faces.
Renee and Melanie have thoughtfully organized art projects while adjusting to a playroom without a sink and energetically pursued the making of an outdoor play space.
They are kind to everyone they meet and are cheerful in the face of any new challenge that is presented. Their commitment to the toddlers and families served is quite evident by the elaborate activities they offer such as arts and crafts, bubble blowing as well as singing and dancing seen regularly at their playgroups. This is the embodiment of our mission to improving LIFE so that the individuals we serve reach their full potential.
Congratulations, Renee and Melanie, Lucas County Board of Developmental Disabilities May 2023 Staff Persons of the Month!
Special Recognition
The Lucas County Board of Developmental Disabilities works with more than 600 providers to serve more than 4,500 individuals every day.
For each of those individuals, it comes down to that one relationship with that one provider. Like A.J. and his team at A Good Life Residential Services.
A.J. was referred to Lucas DD in February via the MUI unit after he was taken into custody by Toledo police. TPD took him to a local hospital for a health assessment while they searched for his caregivers.  Eventually he was identified but it was determined that it was not safe for A.J. to return to his home under the care he was receiving.
So, the Board began to contact providers that offered respite services.  On February 23, A Good Life and CEO Roshonda Woodley stepped up and agreed to assist A.J. 
Since this transition from natural supports to provider services and supports, Ms. Woodley reports she and her staff notice A.J. taking things one day at a time. He is very friendly. Most days he can be seen giving high-fives or randomly breaking out some dance moves.  He enjoys coffee, painting, and riding bikes at the ADS program.  Staff noticed he enjoys sensory stimulation in the form of lotions and hand sanitizers that have strong scents, and classic TV shows like "Martin."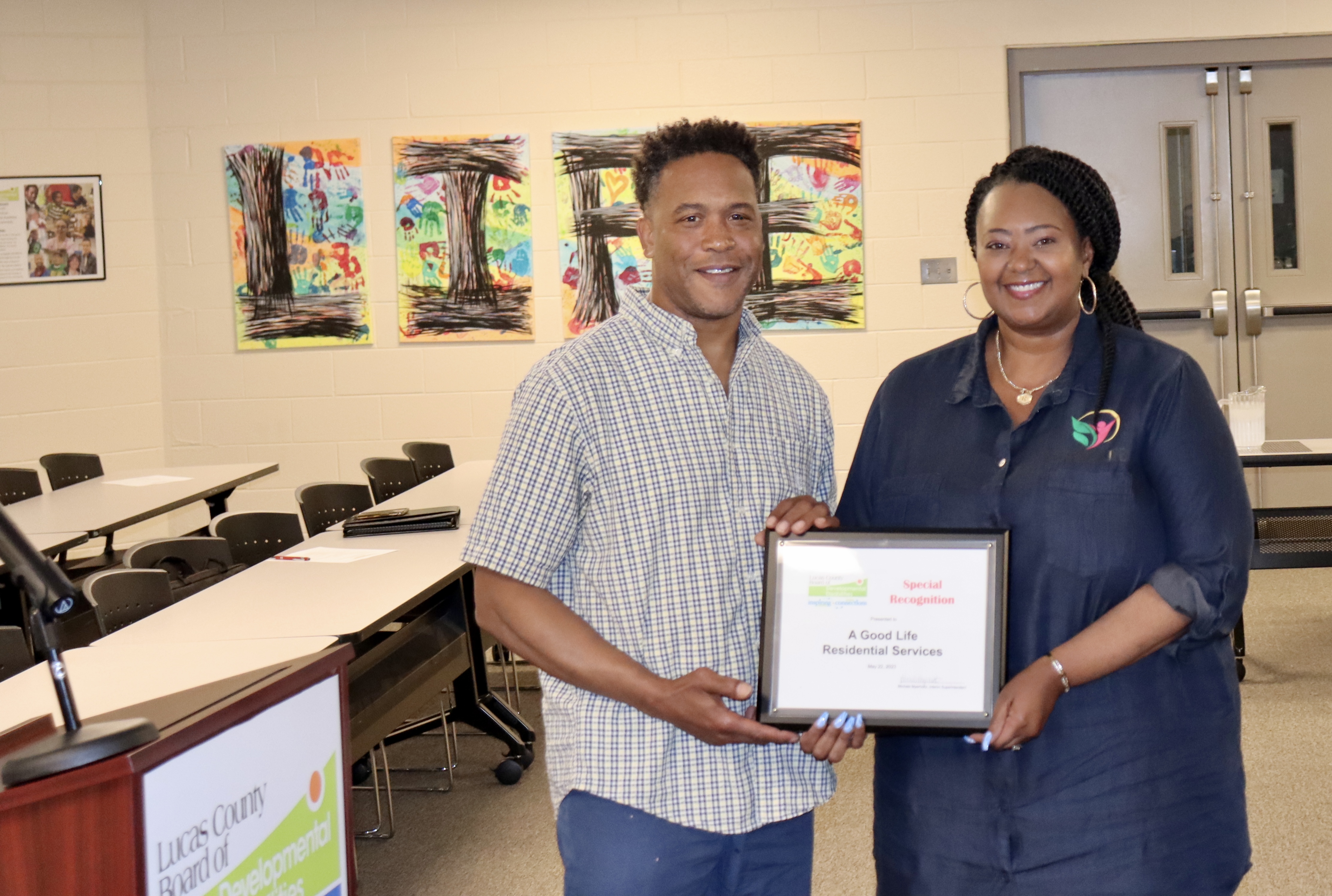 Some days, A.J. is observed as feeling blue. He is, after all, in the midst of a huge transition in his life as far as his surroundings, including where he lives, the people that are around him every day and things most of us might take for granted, like staff having to learn what is important to and for him in order to provide structure that helps A.J. feel safe.
There are times A.J. may feel out of sorts, confused or frustrated, which, unfortunately, may cause him to get physical.  A Good Life staff respond with a trauma-informed approach.  This can be challenging at times due to limited communication skills and typically little to no indication of what may have caused or contributed to A.J.'s change in mood. The team has recently added a Specialized Supports Consultant to develop some behavioral strategies as staff continue to work on sign language to communicate with A.J.
"I believe AJ has overcome a lot given his circumstances and I am so grateful for his placement with A Good Life," SSA Coordinator LaMishyia Hudson said. "Roshonda and her team have worked well with him and have been the epitome of empathetic."
Ms. Woodley has told us that she truly believes working with A.J. was a calling for her, her agency, and her staff. They have certainly gone above and beyond with providing essential services and supports to this newly re-enrolled individual. We could not be prouder to present this Special Recognition to the awe-inspiring team at A Good Life Residential Services!