At its monthly meeting on March 27, 2023, the Lucas County Board of Developmental Disabilities honored an employee and some special guests.
Staff Person of the Month
The Lucas County Board of Developmental Disabilities is pleased to recognize David McLaughlin, Employment Navigator in the Community Inclusion Department, as the March 2023 Staff Person of the Month.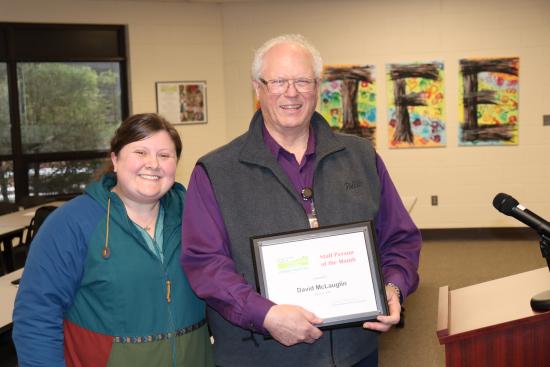 Dave is not afraid to ask the tough questions and his teams are all the better for it. He offers realistic solutions to issues that the team might be going through. Dave takes time to research opportunities to better individuals' lives.
I can personally attest to this because when I was on maternity leave, Dave stepped in and helped oversee one of my tough cases. The individual has a traumatic brain injury and was having issues at work. Dave was able to pull the TBI Resource Center on to the team. Not only did the TBI center help provide the team with answers for why and how to best service the individual while he is working, they also gave guidance on how HPC staff can better service the individual in the home. Dave made this connection and it helped the team come full circle in how to best support this individual.
Dave takes time to meet people where they are at. A client on his caseload frequently looks to her mother to help her ask questions. Dave took time to analyze what works and doesn't work with this individual and was able to get her to answer questions directly. The guardian has noticed that the individual feels comfortable speaking to him with the prompts that Dave customized for her.
I love working with Dave because he always gives precise updates to team members, and helps advocate for what the individual wants and needs in a realistic manner. He always uses realistic approaches, and provides the best follow-up.
Dave takes time to see the talents and abilities of those he serves so they can see how they can reach their fullest potential. He explains choices and options in ways that individuals understand and makes sure clients are heard in the decisions that they want to make.
Congratulations, Dave, on this Staff Person of the Month Award and thank you for your continued championing of our individuals.
Special Recognition
To fully appreciate the significance of this Special Recognition we are honored to present Sue and Jerry Smith, we need to break it down by numbers.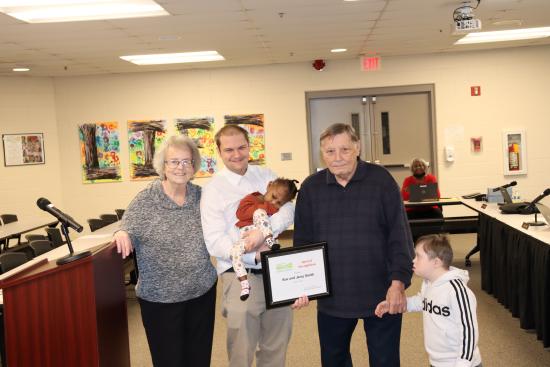 In their 54th year of being foster parents, the Smiths have served more than 100 (ONE HUNDRED!) children. They have 2 biological sons and 12 adopted children, 3 of which currently reside in their home, along with 1 foster child.
For decades, Sue and Jerry have partnered with the Lucas County Board of Developmental Disabilities in supporting kids with significant special and medical needs. It all started when they chose to work with Catholic Social Services here in Toledo and fostered twin boys who had Down Syndrome.  Sue and Jerry also took in children from Saint Anthony's Villa to visit on the weekends. They kept a regular rotation schedule in place, 2 girls one weekend and 2 boys the next.  They would save their change during the week to give to the children on weekends for shopping trips.
After moving to Columbus, Sue and Jerry continued to foster children, especially those who were medically fragile.  Sue would travel around Franklin County helping to open up medically fragile in-home nursing sites for children.  She even became an LPN to serve those very kids.  Sue partnered with then Governor Voinovich while in Columbus and wrote waiver applications for the medically fragile.  As word began to spread, the Smiths were sought after. Jerry said he recalls many nights coming home from work to see a swarm of news reporters surrounding their house!
Their second home, however, quickly became what is now known as Nationwide Children's Hospital. "Due to the medical needs of the children we served while we lived in Columbus – we pretty much lived at Columbus Children's," the Smiths said.
In early 1990s, they helped Franklin County Children Services establish its Medically Fragile Treatment Foster Care Program and were recipients of the agency's Foster Care Family of the Year award.
The Smiths have since moved back to Toledo and continue to foster, adopt and raise children. They've also reconnected with the Board, working with Early Intervention Developmental Specialists and Service and Support Specialists. All parties are mutually driven by our mission to improve LIFE so individuals with developmental disabilities reach their full potential.
Five decades, 100 children, two of the largest counties in the country, we are so grateful to have these angels among us. Thank you, Sue and Jerry, for opening your loving hearts and homes to generations of children and providing them with the vital care and support they need.
It is with great honor that we present you with this Special Recognition from the Lucas County Board of Developmental Disabilities.