TOLEDO — Monday's monthly meeting of the Lucas County Board of Developmental Disabilities began with the swearing in of its newest member, Conor Smenner.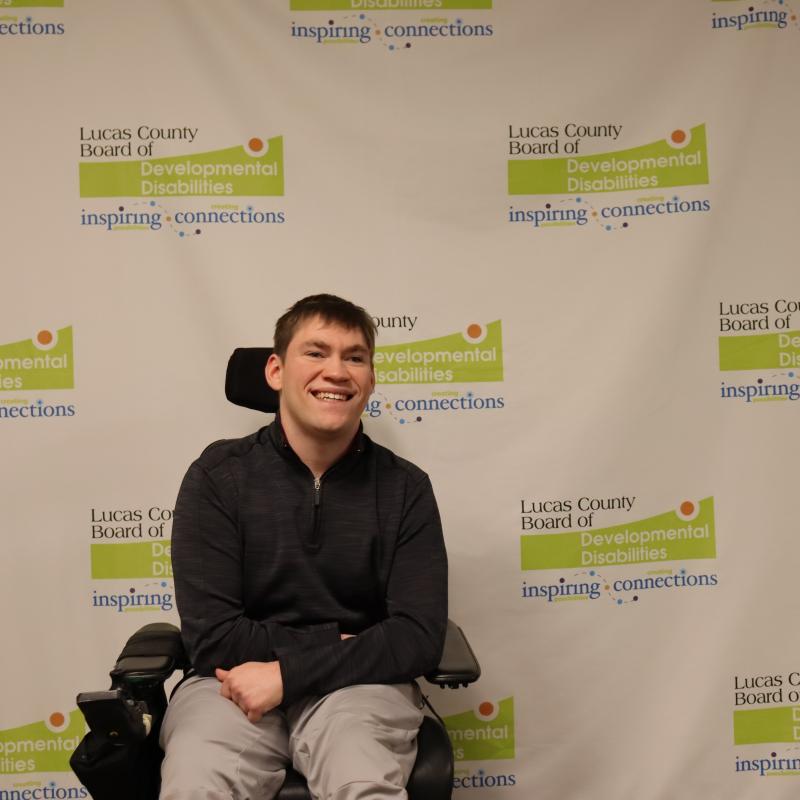 Mr. Smenner was appointed by the Board of Lucas County Commissioners to complete the term of Nathan Turner, who had to resign his position on the Lucas DD Board as required to accept employment with the Ohio Department of Developmental Disabilities. That term expires on Dec. 31, 2025.
Mr. Smenner is graduate of Bowling Green State University and lives in Toledo. He currently works as a Ticket Sales Associate at the Huntington Center.
An individual served by Lucas DD, Mr. Smenner says he is looking forward to collaborating with fellow Board members and working together to implement policies that will benefit the lives of individuals with developmental disabilities in Lucas County.
"I believe I will bring a fresh perspective and insight on pressing issues that will ultimately help better the lives of individuals receiving services," he said.
The Lucas County Board of Developmental Disabilities is comprised of seven volunteer members, who serve four-year terms. Two of the members are appointed by the probate judge. The Board of Commissioners appoints five members.
Special Recognition
Joe Stanford (Legal Aid of Western Ohio)
The statement "Together, we do the community justice," highlighted on the Website of Legal Aid of Western Ohio, Inc. (LAWO), best describes why the Board is recognizing LAWO Attorney Joseph Stanford with this Special Recognition. LAWO provides pro bono legal services to people living and working in this community. Joe's impact on the lives of two brothers who have been long-time recipients of Board services goes far beyond providing legal services. Through his efforts, he ensured the independence and self-determination of the two senior gentlemen by protecting their rights and empowering them to protect their rights themselves.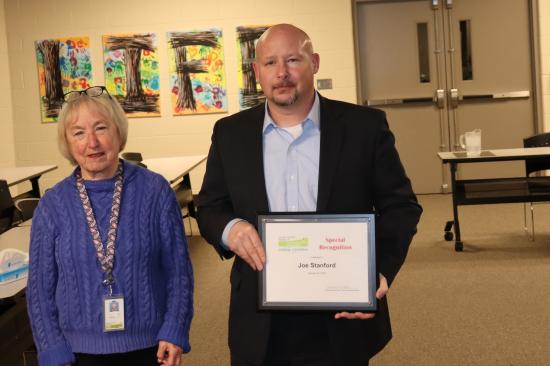 The legal services provided by Joe exemplifies the Mission of this Board to improve LIFE so that individuals with developmental disabilities may reach their full potential. Joe represented the brothers in Probate Court when an application for guardianship was filed by a family member.
A guardianship is not always necessary (or recommended) for adults with disabilities. Ohio Law encourages the use of least restrictive alternatives. In 2012, decision making for the services and programs offered through county boards of developmental disabilities and the Ohio Department of Developmental Disabilities (DODD) was changed to embrace individual autonomy and independence.  There is a presumption of competency, which means that if a guardianship has not been established, the individual is permitted to decide. The individual may seek and obtain advice and guidance from an adult family member or another person but the decision is ultimately theirs.
The brothers had been long time roommates receiving services from Triad Residential Services and service and support administrative services from Carol Aloqaili since approximately 2009 when their mother could no longer care for them. Through consistent and regular collaboration between Triad and the caseworker, they thrived in their environment. They valued their opportunity to choose their home, relationships, hobbies, their career and beliefs and did not want to give that up.  As one of the brothers testified in Court, "I want to be my own boss."
Through Joe's efforts, a successful outcome was achieved when Probate Court determined that the two brothers did not need a guardian. Joe, we are extremely grateful for your passion and commitment, and look forward to continued collaboration with you and the rest of the LAWO team.
Alex Huffaker (TARTA)
Alex Huffaker works directly with our Community Inclusion Department to make sure all questions and needs are met. We work together to streamline processes to better serve our shared client base.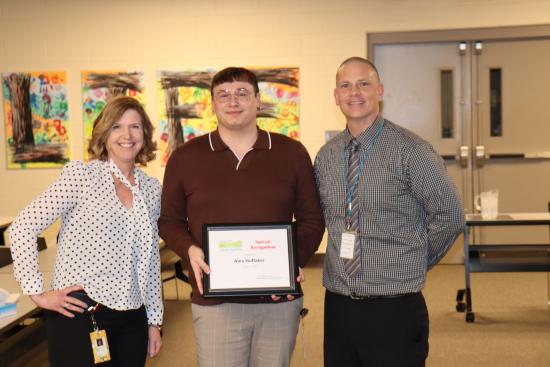 As our main point of contact at TARTA, we can always count on Alex with quick answers to our many questions. He always goes above and beyond the call of duty, working with leadership at his own agency and ours. He never stops asking the difficult questions to make sure that all of our individuals' needs are met no matter who he has to talk to or work with.
Alex lives and breathes customer service in everything he does. It always comes back to one question with him, how do we make this better for our customers and clients? He is a facilitator with TARTA staff to ensure eligibility requirements, applications processes, re-certifications, extensions, and tickets and passes for TARPS and TARTA are done in a timely manner. That is just to name a few things that Alex has been a rock star with!
Lastly, we want to congratulate Alex on his recent promotion to Executive Assistant to TARTA CEO Laura Koprowski.  We know that his passion and experience will lead him far in the future. To borrow a slogan, TARTA is taking you places, Alex!
Thank you for what you have done and continue to do for our individuals. We are honored to call you a friend and very pleased to present you, tonight, with the February 2023 Special Recognition Award from the Lucas County Board of Developmental Disabilities.
Staff Person of the Month
Heather McVay
The Lucas County Board of Developmental Disabilities is pleased to recognize Heather McVay, SSA Coordinator, as the February 2023 Staff Person of the Month.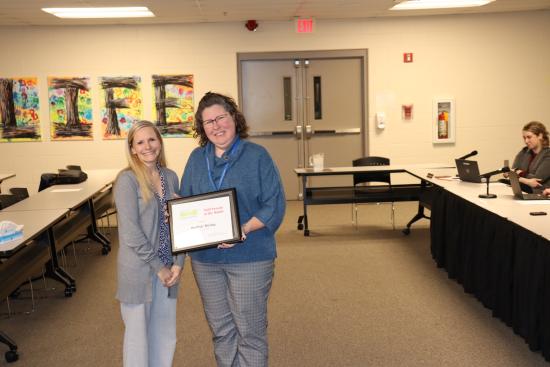 Heather has been with the Board for more than 20 years and has been a positive influence since day one.
Heather encapsulates the Board's mission through her flexibility, understanding, and a near constant display of leadership qualities. She is not just a supervisor, Heather is a leader that leads by example. She is always willing to go the extra mile and follows through on tough situations. Heather guides her Service and Support Specialists with utmost integrity and professionalism.
Heather will go into the trenches with her staff  and follows-up when it is needed.  She supports her department by actively participating in meetings and being open with communication. Heather follows through with her commitment by doing what she says.  Her office is a safe space for staff to ask questions and vent when they need to.
Heather has open and honest communication within the department and with our families.  She demonstrates those same communication styles with internal and external teams.
Thank you, Heather, for all you do that is both seen and unseen!  We appreciate you and congratulate you as the February 2023 Lucas County Board of DD Staff Person of the Month!
Retirement Recognition
Pat York
Talk to any former coworkers of Pat York's from the past 30 years and watch their faces light up, remembering the helpful, always on time, welcoming, and organized team player. "At Larc Lane School, Pat's class was always on time and ready for music!" one person said. "Pat was in charge of passing out the rhythm instruments when her class had music, and needed to be reminded that we had to give them back when class was over. She wanted her own little maracas theme song all day!"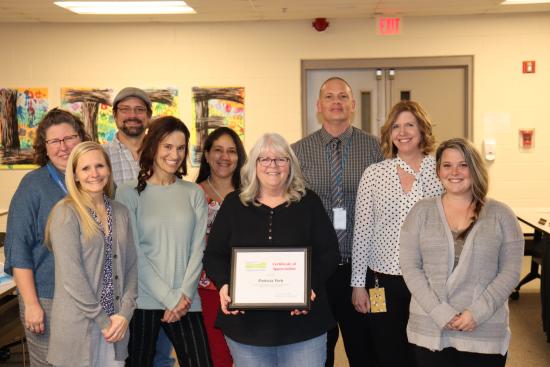 I met Pat in 2016 when I joined EduCare as a Specialized Support Consultant for the Children's Department. Pat was our SSA clerk (aka our room mom, our SASSette)! She not only handled all of her job duties and made sure our files stayed organized, she also made sure we were okay! Pat checked in with us often, reminding us all to take care of ourselves first and making sure we all made it safely to our destinations of the day. Pat was also a strong union member who was always looking out for her peers.  She also made sure our refrigerator was always stocked with water and, oohhh, those homemade snacks. This woman can turn zucchinis into the best brownies you've ever tasted!
Between COVID and changes to the Children's Department, we all went our separate ways after the transition out of the Educare Center but it wouldn't be long until a lot of us, including Pat, found our way back together in the Community Inclusion Department. She joined my CI team in 2021 and I couldn't have been more excited. She needed little introduction and picked up right where she left off. She helped deliver PPE when that was a huge need during the pandemic. She developed our community calendar, took an active role in SALUTE and Best Buddies and was quick to volunteer for all of our department's many events. She was also a huge help to travel training and Special Olympics!
It has been an absolute, genuine pleasure getting to know and work with Pat. Her dedication to our individuals was one of a kind. Much like her spinach rolls and brownies, her work here will never be forgotten! Pat, you already are truly missed.
Please join me in congratulating Pat York on 30 years of dedicated service to the Lucas County Board of DD. We wish you a safe, happy and healthy retirement!
Julie O'Hair
The Lucas County Board of Developmental Disabilities is pleased to recognize the retirement of Julie O'Hair after 34 years of dedicated service.
Julie started her career with the Board as a Case Manager in September, 1988.  She spent time as a MUI Coordinator, and, for the last 12 years, was the Director of Service and Support Administration.  In more than three decades of work she saw a lot of changes in this dynamic agency. A mentor to many, she offered training to staff that she has supervised over her years at Lucas County Board of DD.  As Oprah Winfrey once said "A mentor is someone who allows you to see the hope inside yourself." 
Julie fully embraced the Board's values and demonstrated them in her work ethic. She gave her heart to the people we serve, a passion that no doubt started with her own experience as a family member of a person with a developmental disability.  Julie dedicated her life to making sure people with developmental disabilities were valued, included, safe, and able to live their best life. 
Thank you, Julie, for all your years of service to the Board and the people we serve in Lucas County.  Best wishes to you in your well-earned retirement!
Editor's Note: Julie was unable to attend the meeting.
Steve Mortemore
Steve started with the Board in January, 1988 (for reference, I was in 8th grade). Some quick math indicates that is 35 years of service!! Steve began as a Habilitation Specialist at our Berdan Avenue location.  He transferred to the Hill Adult Services Center (currently known as Lott on Hill Avenue) where he worked the majority of his career. That is where our paths crossed in 2013. It was my first job at the Board. I was an eager Job Developer and Steve was a straight ace, no nonsense, to the point kind of guy. This greatly assisted me in some fantastic opportunities for some of the individuals we served. Like any great teammate, he was always a partner in the process and encouraged staff to push past their limitations. Even back then, he was an Employment Navigator. Once the Board began its transition out of Adult Options, Steve assisted the Holland facility, and as we know, life changed for us at the Board.
In September, 2018, he took a Provider Support Specialist position where he supported our providers in training opportunities and was a main contact to assist with questions, concerns, and compliance.
Steve became an Employment Navigator in July, 2019, a post he held until his retirement. He focused on those individuals seeking community-based employment. It was always his goal to create the support for our individuals and identify objectives that would help every person served reach their full potential.  Our paths crossed again when I was a SSA Coordinator and Steve was assigned to my unit. His knowledge and experience helped guide the SSAs to understand employment needs, supports, how to overcome barriers for our individuals, as well as the entire OOD application process. (If you ever had to complete an OOD application, you should be very grateful for Steve's assistance on that). Steve took the responsibility to relieve the many stressors that some SSAs feel over employment. He was able to guide staff in the right paths to employment.
Steve will be missed as a team player who was readily available with a helping hand for new staff in the Community Inclusion Department.  And because of his experience, he was often sought for consultation and advice. But don't worry, I have Steve's cell phone number and, actually, we have already called it a couple of times since he retired. Just kidding, not true, sort of.
Steve is a credit to himself, the Board, and our community.  I am so honored to have had a chance to work with him. He has been a tremendous asset to the individuals and families we serve.  Thank you, Steve, for all you did to further the Board's mission of improving LIFE so that individuals with developmental disabilities reach their full potential! Congratulations on your 35 years of dedicated service and best wishes on your retirement!
Editor's Note: Steve was unable to attend the meeting.
Melissa Russell
Melissa Russell started with the Lucas County Board of DD as a Case Manager in August, 1994.  She was assigned to work with children.  She worked in this role for about 2 ½ years and then bid over into the Early Intervention Department. 
She became an Early Intervention Specialist in March, 1997. During her time in Early Intervention, she was the Union Steward for the department and also took on the role of EI Mentor. 
Melissa loved interacting with children and their families.  She also branched out and facilitated a parent-child playgroup at the former Redeemer Lutheran Church in conjunction with Early Start services.  Let's just say that she dealt with some very interesting environmental issues while there! 
In March, 2007, Melissa became an Early Intervention Coordinator, a position she held until her retirement on January 27th, 2023.  Melissa has held a great passion for our world of infants, toddlers and special needs and spent almost her entire career supporting families!  As the pandemic hit, Melissa took the lead to get items packed up at the EduCare Center as we planned our move to the Administration building.  She had to do this on her own as we all had to isolate and keep our distance from others.  This was a major job that she completed with no complaints. Ok, maybe a couple of complaints! 
Her dry sense of humor, quick wit, and fluency in speaking sarcasm made her a joy to be around… For the most part.
We already miss you, Melissa!  We are honored that you shared so many years dedicated to supporting our individuals, their families, and your colleagues here at the Board!  Congratulations and best wishes on your retirement!
Editor's Note: Melissa was unable to attend the meeting